Young cabinetmakers show their skills at SkillsUSA California
April 24, 2023 | 7:58 pm CDT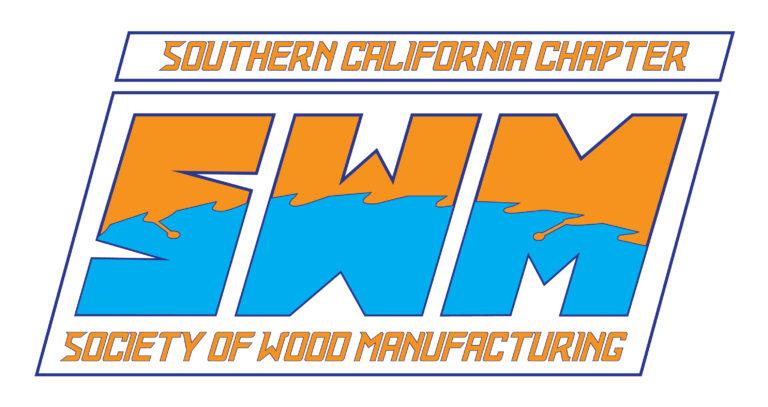 ANAHEIM, Calif. — SkillsUSA California hosted the State Cabinetmaking and Introductory Woodworking competitions on Saturday, April 15, at Chaffey High School in Ontario, California, and for the second year in a row a female student won the Gold Medal in the Cabinetmaking contest.
Zoe Dewberry, Fortuna High School, won the 2023 Cabinetmaking Gold medal. New this year is the Introductory Woodworking Contest that is open to high school and middle school students new to cabinetmaking.
Staff and industry volunteers from the Association of Woodworking & Furnishings Suppliers (AWFS), Inland Woodworkers Association, and the Society of Wood Manufacturing (SWM) served as contest coordinators, judges, and with overall contest support.
Over $10,000 in contest materials, supplies, tools, and giveaways for students were donated by: Blum Inc., Colonial Saw/Lamello, Decore-ative Specialties, Drawer Box Specialties, Edgebanding Services Inc. (ESI), Grex Tools, Leitz Tooling, Rockler Woodworking, Royal Plywood, and Society of Wood Manufacturing (SWM), a chapter of AWFS. 
Introductory woodworking contest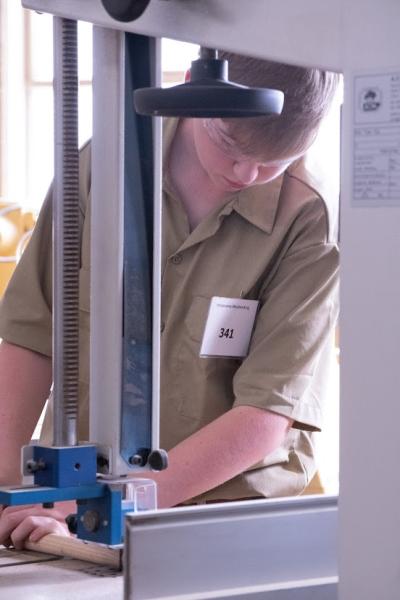 Nineteen students from eleven high schools and one middle school throughout California competed in the Introductory Woodworking contest. 
This contest is intended to introduce students to the SkillsUSA competitive environment and encourage them to return to compete in the Cabinetmaking contest the following year. Contestants are given a set of plans to construct a hanging wall shelf with a drawer and towel holder. 
For the first time, students in this contest were introduced to edgebanding (using irons) and pocket hole fastening to complete their project. Drawer Box Specialties donated dovetailed drawer boxes for students to assemble and incorporate into their project. Decore-ative Specialties donated solid oak doors and drawer fronts for both contests.
Cabinetmaking contest 
The 2023 SkillsUSA California State Cabinetmaking competition hosted twenty- two students from nine high schools across the state. Students competed for medals and the opportunity to represent California at the upcoming SkillsUSA National Championships, which will take place in Atlanta, Georgia in June.  
The students built a nightstand that tested their skills using various woodworking machinery. Students had access to table saws, pocket machine, edgebanding machine, miter saws, and hand tools. 
Karl Frey from Colonial Saw helped students use the Lamello P-System with a contest loan of Zeta biscuit machines and a donation of Tenso and Clamex connectors for all the Cabinetmaking students. Local Blum representative Lee Schuette assisted the contestants with drilling and installing Blum TANDEM drawer slides clips.
The contestants had about three hours to review the plans during orientation the day prior, and just six and a half hours to finish the project. Contest judges used criteria such as accuracy of measurements, safety, and use of tools and machinery to determine the scores. Not all students completed the project, but all contestants took home their project after the event so that they could complete it.
Contests made possible through volunteers and industry donations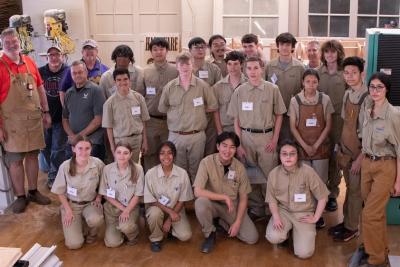 Materials for both contests were generously donated by Royal Plywood of Cerritos, Calif. In addition to Tandem slides, Blum provided tape measures and Pozi screwdrivers for the Cabinetmaking contestants.
Colonial Saw/Lamello provided Zeta tools, Tenso and Clamex connectors. Drawer Box Specialties contributed the pre-made dovetail drawer boxes that the students assembled during the contest, and Decore-ative Specialties donated solid oak drawer fronts. ESI donated the edge-banding and hot melt glue, Leitz provided three saw blades, and GREX loaned pin guns and pins. Rockler Woodworking provided a drill bit, glue, and screw caps. Tool prize packages for the top medalists were provided through donations from members of the Society of Wood Manufacturing.
The team of volunteers who contributed their time to plan, organize, and execute the contests, included:
Jorge Garcia, Ontario High School– Overall Contest Support (and event host)
Saúl Martín, Architectural Woodworking Company– Cabinetmaking Contest Coordinator
Diana Ramirez, Reborn Cabinets – Cabinetmaking Judge
Rick Reimer, Inland Woodworkers – Cabinetmaking Judge
Jordan Clarke, Palomar College – Cabinetmaking Judge
Karl Frey, Colonial Saw– Cabinetmaking Support
Lee Schuette, Blum Inc.– Cabinetmaking Support
Juan Falcon, Falcon Arte Calado – Cabinetmaking support/safety
R.J. Monsma, Inland Woodworkers – Cabinetmaking contest support/safety
Imelda Martín – Overall Contest Support and Photography
Alicia Mendez, Falcon Arte Calado – Overall Contest Support
Kenneth Thomas, Inland Woodworkers – Introductory Woodworking Contest Coordinator
Mike Trejo, Inland Woodworkers – Introductory Woodworking Contest Coordinator
John Hogancamp, Inland Woodworkers – Introductory Woodworking Judge
Mike Miller, Inland Woodworkers – Introductory Woodworking Judge
Charlie Rizzo, Montclair High School – Introductory Woodworking Judge
Ron Chappell, Inland Woodworkers – Introductory Woodworking support/safety
Matthew Martel, Inland Woodworkers – Introductory Woodworking support/safety
The project plans were developed by SWM volunteers and drafted by Erik Suzuki & Saúl Martín of Architectural Woodworking Company in Monterey Park.
SkillsUSA California state student medalists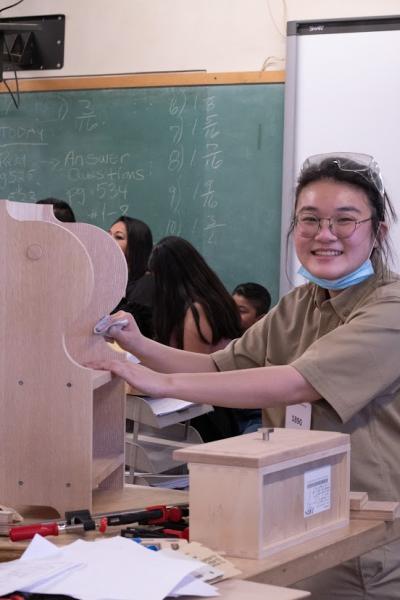 Zoe Dewberry of Fortuna High School (Humboldt County) received the highest score and the Gold medal in the state high school Cabinetmaking competition and has been invited to represent California at the SkillsUSA National Leadership & Skills Championships Atlanta, Georgia, June 19-23, 2023, where she will compete against other top scoring high school competitors from other states. 
Rounding out the Cabinetmaking medalist are two students from Monache High School (Porterville, Calif.): Marriner Christenson earned Silver and Esteban Heredia earned Bronze. 
In the Introductory Woodworking contest, Avian Thai of Mark Keppel High School won Gold, Christopher Bu of Alhambra High School received Silver, and Carlie Ball from Serrano High School received Bronze. Adam Martinez Maravilla received Middle School Introductory Woodworking Gold, and Noah Johnson won Silver, both students at Academies of The Antelope Valley.
SkillsUSA California virtual regional contests 
In January and February, SWM volunteer members supported the SkillsUSA California Regional woodworking contests. 
Dozens of high school and middle school students competed in the regional Cabinetmaking and the Introductory Woodworking contests combined. 
The regional contests serve as a qualifier to determine which contestants will advance to the State Conference. Students had to build a project in their school shop and submit a video about the process. After the judges reviewed the contestants' videos, the judges also interviewed each contestant via Zoom.
For more information about SkillsUSA California woodworking or to participate in future SkillsUSA California woodworking events, contact Adria Salvatore at [email protected] or 323-215-0311.
 
Have something to say? Share your thoughts with us in the comments below.