New cabinet operation focuses on kitchen designer
June 1, 2016 | 3:25 pm CDT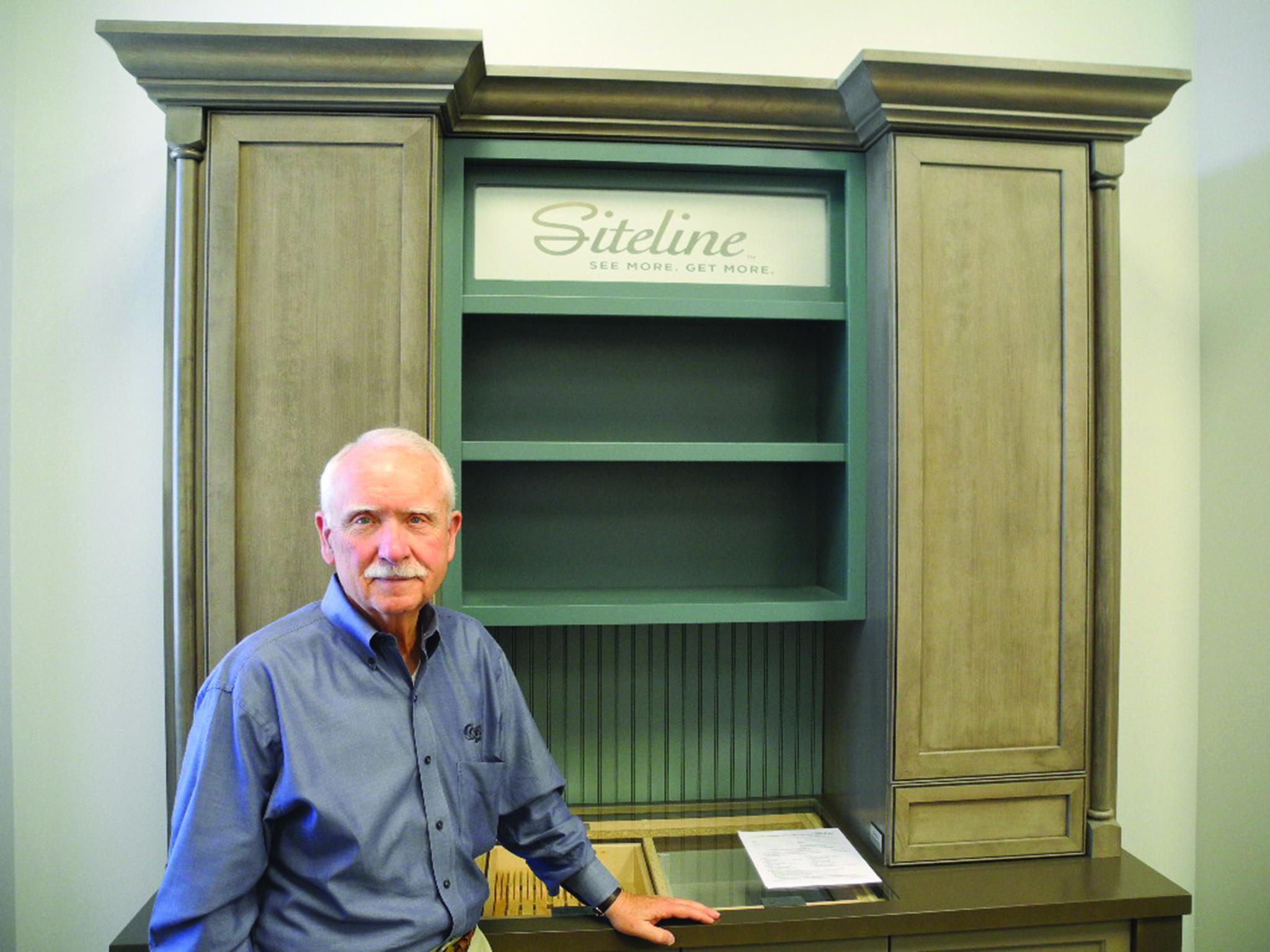 Corsi Group built a new cabinet manufacturing operation in Keysville, Virginia, to make its Siteline cabinetry line, and started production in the third quarter of 2015.

If you ask Pat Corsi when a company milestone was reached, he'll give you the exact date.

The Corsi Group was started in Indianapolis on July 16, 1973.

If you ask where the company's focus is, he will give an exact answer: the designer.

At Siteline, the focus is always on the designer.

Corsi Group built a new cabinet manufacturing operation in Keysville, Virginia, to make its Siteline cabinetry line, and started production in the third quarter of 2015, ramping up slowly.
A large Superfici finishing line with vertical oven is used for enamels and clear coats.
Corsi, CEO and chairman, started the company with a Small Business Administration loan after working for another cabinet company. The company now employs 200, and has an operation in Indianapolis, and another cabinet manufacturing plant in Elkins, West Virginia, which opened in 2000.

"Corsi Group is a completely changed company from what it was three years ago," he said. "We've improved our ability to truly implement lean, to gather sophisticated financial information, to communicate to the market both retail and designer, and the ability to respond to and solve problems.
The equipment lineup includes both a Weeke Vantech 510 nested-based CNC router, Weeke vertical machining center, pictured.
"I have been able to assemble a professional management team that is far more capable in a number of specialty areas than I could have ever been before. Ken Pfarr, company president, is at the pinnacle of those efforts."
New plant and product
In Keysville, the new Corsi Group plant is making a new product line called Siteline. Greenfield is the other primary Corsi Group brand, made in both Elkins and Indianapolis. Corsi Cabinetry is another brand made in Indianapolis only.

Greenfield is "custom within reason," Corsi is completely custom, like architectural millwork, and Siteline is "custom within an engineered standard." There is no physical difference in product quality; however, doors and finishes are unique for each brand. Siteline has a broad product offering in cosmetics, modifications and accessories within that pre-engineered offering.
Corsi Group built a new cabinet manufacturing operation in Keysville, Virginia, to make its Siteline cabinetry line, and started production in the third quarter of 2015.
Siteline Cabinetry is full access (frameless), with traditional, transitional and contemporary styles. It is semi-custom, with many pre-configured SKUs, modifications, and a four-week lead time.
Looking at the market
Corsi said that the company has paid attention to the market, looked at the buying power of millennials, and the growth of Houzz and Pinterest. They have also taken their pricing and quoting systems and created effective interfaces with 20-20, a widely used design platform.

"The world of retail in home decor and home environments has completely changed," he said.

"We relate everything back to the quality of life and income of our designers. What are the little things we can do in our process to get them home earlier?

"We only sell to people that have the capacity to design effectively. That may be a design-build-remodel company,  a homebuilding company with a sophisticated design staff, a boutique, independent designer, or it may be a showroom dealer." "We never sell the homeowner. We have no direct sales efforts."
Right place for expansion
Keysville is geographically well placed, with good availability of high quality of labor, proximity to supporting companies, vendors and logistics. Corsi said that the local labor pool has experience in furniture, tobacco or textiles,  and therefore brings machine skills, and appreciation of safety and quality.

"We've had great community support, and every day people walk in here wanting to know if they can get a job," he said. "We're in an area that has an abundance of labor."

Corsi purchased an existing 50,000 square foot building in Keysville, and then almost doubled the size to 97,000 square feet. The company has space to expand further in this location.

The new plant operates with Microvellum and is fed by Siteline's ERP system. The designer can use one of two software channels for ordering. Each one flows into Corsi's ERP system, then to Microvellum for parts configuration, then on to purchasing, production planning, delivery, invoicing, and eventually financial statements.

They use Microvellum as a parametric configurator, so as a cabinet is designed, the parametric configurator resizes all of the components in real-time.

"Everything is made to order," Corsi said. "We machine, finish, assemble, package and ship one kitchen at a time, using solid hardwoods, domestic veneers, reconstituted veneers, 3DL, TFL, polyester wrap, MDF, particleboard and plywood."

The overall operation in Keysville is dedicated to frameless cabinets, or what Corsi calls "full access" cabinets. (Necessary front-framed components can be made in-house, for items such as bookcases.)

"This is a single platform manufacturing facility, which is unlike our other two plants," Corsi said. "Engineering of this plant is designed to make high quality full access cabinets, but with the engineered modifications we offer."

Corsi said the company is ramping up, running the finishing line and plant well below capacity. It might be early 2018 before Keysville is running at full capacity.

"We're more concerned with building our internal and external resources, core of designers, manufacturing staff and bringing all of our systems to maturity," Corsi said. "We are driven by quality of performance."

The company started here with a focused plan to be lean. Corsi considers vice president of operations Jarmo Koponen as a lean authority. "We are measuring ourselves every day on speed of throughput at every step in the process," Corsi said. "Even though our volume is modest, we are attempting to inculcate every individual with the spirit and drive of lean."
Panel processing
The equipment lineup includes a Holzma HPP 250 panel saw, Weeke Vantech 510 nested-based CNC router, Weeke vertical machining center. Some parts run more quickly on the nested-based router, others run more efficiently on the vertical machining center.

A Brandt Ambition 1440 edgebander airTec with zero edge technology, which Corsi said has worked well for them and creates a minimum glue line. "It gives us all the quality of a laser without the limits you have with a laser in the edgebanding preparation." A Doucet return table works with the edgebander.

A QuickWood System 1100 denibbing sander uses a process that removes sharp edges that are difficult to finish. A microscopic radius on all the edges allows them to be painted, and greatly improves durability of painted product.

An SCM DMC widebelt sander and SCMI table saw are used in the shop. A door cell includes a chop saw with TigerStop positioning system, Doucet door clamp and Balestrini tongue-and-groove miter saw.
Flatline finishing
A large Superfici finishing line is used for enamels and clear coats. Corsi thinks Superfici has a superior oven for cost and quality. He also said the way they control airflow is more fuel efficient. "We chose to go to a vertical oven because of the flexibility it gives us with the different types of coatings we may want to use," he said. "We're not using water-based coatings, but could in the future with a vertical oven."

Parts go from the spray section onto a conveyor, which moves them to an oven tray.  Oven trays then sequence through high temperature and cool down sections of the oven.  Infeed line markers guide line loading to tray capacity. The vertical oven provides about 500 feet of conveyor within a box that is only 30 x 30.

Separately, there are two finishing booths, which are used for special and one-time coloring. If they have a remake or very short run (it's not uncommon to get an order for one vanity), they'll use these auxiliary booths.

Also in the finishing area are color rendition index bulbs and  easels to evaluate color consistency. Siteline offers finishing in many standard stains for each wood species. They also offer 44 base paint colors, selected from the top sellers and projected best sellers, creating more than 130 choices, including glazes. There are a total of 289 material/finish choices

"Who would have thought five years ago that 70 percent of our cabinets would be painted cabinets?" Corsi said.

Moving to assembly, drawers are assembled from pre-finished parts. Case parts are assembled through two large case clamps, a Homag MPH410 Optimat and similar Ligmatech. This plant also has a Packsize packaging machine.

Internal and external training are challenges for any new operation. The Corsi team has to bring new people into the plant,  teach them about the product and how it is created. Also, external training brings the designers up to speed on how to best utilize the company's capability, and what is available. A series of YouTube videos are also offered to designers.

"Siteline is our first brand where we have launched without a printed product manual," Corsi said. "Our offering is available in a completely digital format. We are very focused on how consumers search for products, and how designers search for information. Our website is a hybrid of what consumers want to see and what designers need to see."

The Corsi goal is to be a company which is easy to do business with. "We are dependable, we are focused on the customer experience, we want our dealers to get home earlier and live better lives through the design and sale of cabinetry," he said. "We offer quick ship with a wide product selection, and we bring an extensive background in painting and finishing."

Corsi said the company is always improving, always changing. "We now face the tough job: training, training and more training. We are continuing to grow all resources to meet demand and exceed customer expectations.

"We have forced change on ourselves every day for 42 years."
Have something to say? Share your thoughts with us in the comments below.