Biesse Inside Charlotte event draws 200 woodworkers
March 23, 2017 | 4:45 pm UTC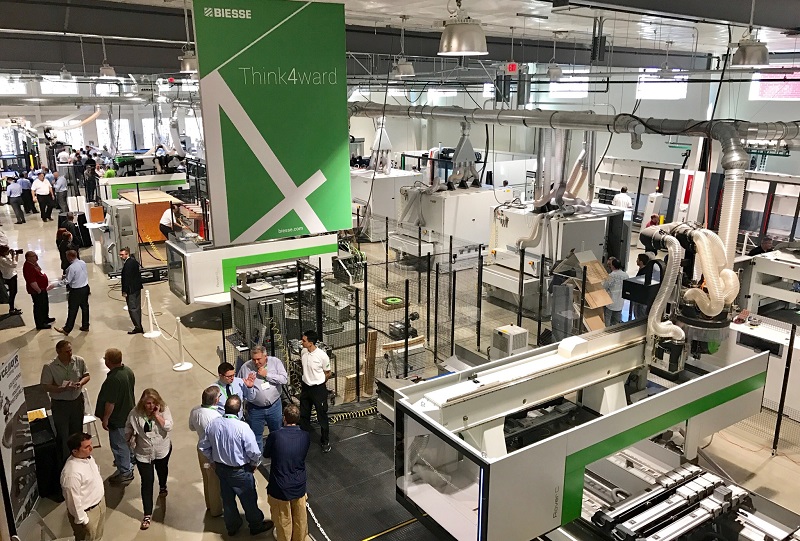 CHARLOTTE, N.C. – More than 200 manufacturing personnel from the woodworking industry attended the Biesse Inside two-day event at their Charlotte campus. Ongoing machinery and technology demonstrations were planned for the March 23 and 24 event.
The next Biesse Inside event will be held in Montreal, Quebec, April 6 and 7. The event offers attendees the opportunity to get a closeup look at new machinery for manufacturing panels, solid wood and other materials. Attendees can work directly with product specialists and learn about new technology and increasing production.
Biesse Group's spring Inside Event held in its 23,000 square foot showroom hosted manufacturers from across the United States and Canada and reached a new record in signed orders totaling close to $6 million. 
Biesse demonstrated a wide range of 4.0-ready machines, systems and software. Attendees had the opportunity to work with 25 partner companies, including tooling, software, banding and finance.
"Biesse's continued commitment to invest in research and development has allowed us to develop innovative technology designed to deliver 4.0 solutions to all shops regardless of size," said Federico Broccoli, Biesse America and Canada President/CEO.  "The entire Biesse Group team was honored to host so many manufacturers at the Inside Event to demonstrate this technology."
Biesse is the group's business unit specializing in the woodworking segment. Since 1969, it has designed, manufactured and marketed a range of technologies and solutions for joiners and large furniture, windows, doors and wood building components manufacturers. See http://www.biesse.com/na/.
Have something to say? Share your thoughts with us in the comments below.