What's new in panel processing: panel sizing & edgebanding trends
April 6, 2016 | 10:57 am CDT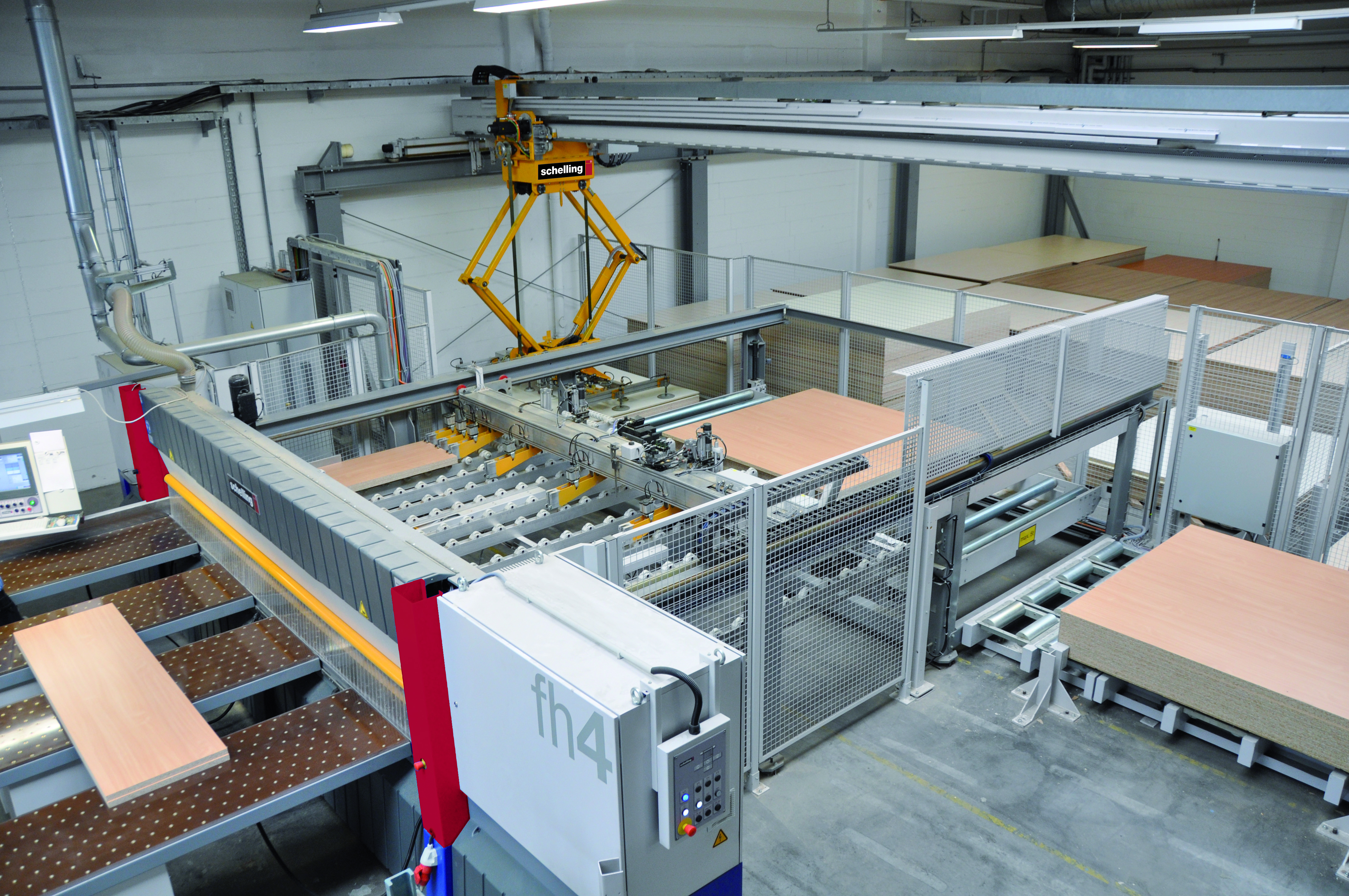 Considered the "future of productivity," Industry 4.0 has already had a significant impact on woodworking processes, including the panel processing arena.
Improving communication has been key to its development. "Industry 4.0 requires connectivity between the machine and the data exchange source, i.e., network," noted Peter Tuenker, managing director at IMA-Schelling America.
"What drives a lot of customers these days is to make their processes more transparent. Efficient data management in the industrial manufacturing process allows for better control of manufacturing processes and as a result, it allows for better optimization of these processes. Once you can understand and pinpoint the areas of improvements in your manufacturing process, you can react much faster and be more accurate in your response," he added.
Focus on panel sizing
Panel sizing and optimization is also going through a transition.  For many companies, this involves a move from large batch processing to small batches or batch one sizes, particularly for those manufacturers with a defined product catalog, noted Rene Fritz, Midwest sales manager at the company.
"To allow for an automated and still efficient processing of small batches, everything from order processing (batching), material ordering, production planning/execution as well as assembly and shipping planning has to be rethought and reorganized," Fritz said. "Most often, this requires new Manufacturing Execution Software and tools, new machinery and features, as well as process control measures on the production floor."
Among today's "hot" features for panel sizing systems is high-speed single sheet and/or small book height processing. This requires a dual feeder to achieve the parts per minute increase while cross cutting. Other requested capabilities include a material handling-like turning device inside the saw for auto rotation for head cuts and automatic labeling of parts. 
"Features like these help to set a constant pace and keep the cutting system occupied, reducing idle time as well as processing parts in an organized and controlled fashion," Fritz said.
Also seeing an increase in demand are automated board storage and retrieval systems, which pre-commission the small batch materials and deliver them directly to the cutting system. 
"These systems come in all kinds of shapes and sizes to fit any size shop. There are also unlimited options on how to implement these systems with other equipment, either directly or indirectly," he said.
"While a board storage system is not necessarily intended to deliver a high volume of the same material to a cutting system, it often is combined to add the medium- to low-volume material into the mix of high-volume material, which could be delivered by other means.
"The goal is to organize the varieties of material with 100 percent inventory accuracy, while providing gentle handling of delicate materials and efficient delivery to downstream processing," he continued.
High-quality edgebanding
In the area of edge processing technology, Tuenker noted an increase in demand for "make to order" high-quality edgebanding, using laser technology or PUR glues. The main benefit of the technology is the zero glue line.
"This decorative advantage is still the biggest driver of this technology," he said. "Another factor for laser edgebanding is moisture resistance.  Especially for kitchen or vanity cabinet manufacturers or the institutional furniture industry (healthcare) where product is often exposed to liquids and moisture, this feature is an important USP for manufacturers."
While cost of the technology and the special dual-extruded edgebanding remains the main downside, "Every year the supply side gets better. But for a manufacturer who is looking for quick turnaround delivery of the laser edgebanding material in a broad variety of colors, designs, etc., it is still very challenging to rely on laser edgebanding as a main source."
New to the market are LED-direct laser systems which "offer many of the same laser edgebanding application characteristics, but at a price roughly half the cost of a diode laser, which is the primary laser system used in the industry," Tuenker said.  While there are limitations such as slightly slower processing speeds and maximum edgeband height, the machines offer a cost-effective entry into the market.
"A lot of people still believe that all they need to do is apply the edgeband with an invisible glue line to the panel and the job is done. The glue line is only the beginning. Customers of high-end furniture expect a flawless look when it comes to the edge of the panel, which involves the trimming, scraping and polishing of the applied edgeband as much as the quality of the glue line."
Source: Written by Jo-Ann Kaiser, this article is excerpted from a longer one in the Red Book Ezine series. Read the complete article in the Panel Processing section of Red Book Best Practices, at WoodworkingNetwork.com. Also view the 2015 Panel Processing digital edition.
 
Have something to say? Share your thoughts with us in the comments below.