Hobbit Joinery a Custom Woodwork Feast
December 26, 2012 | 1:57 pm CST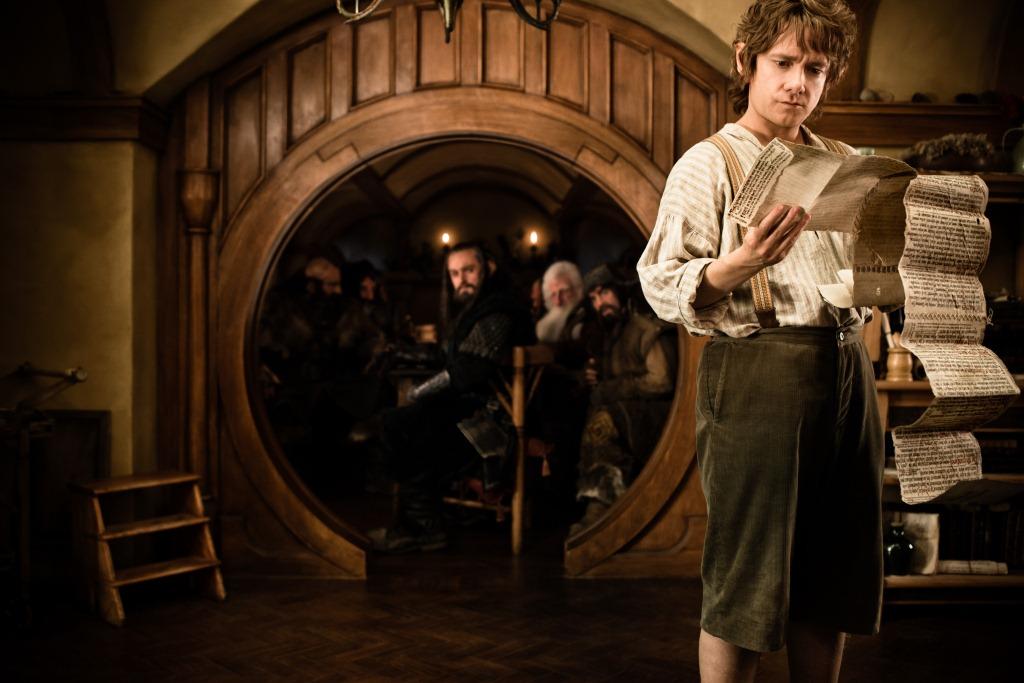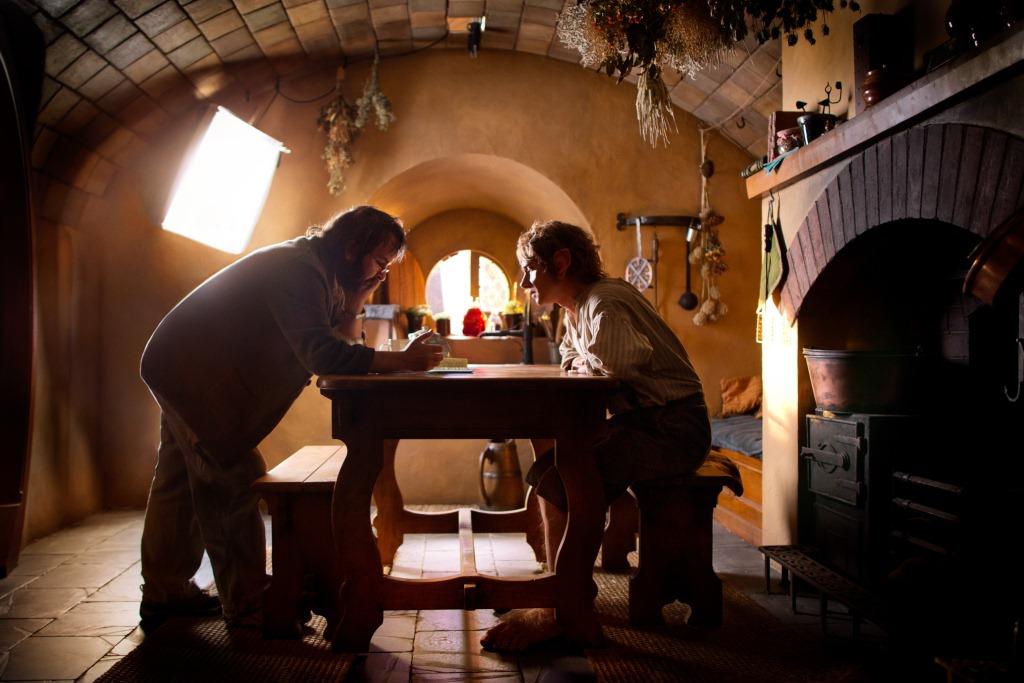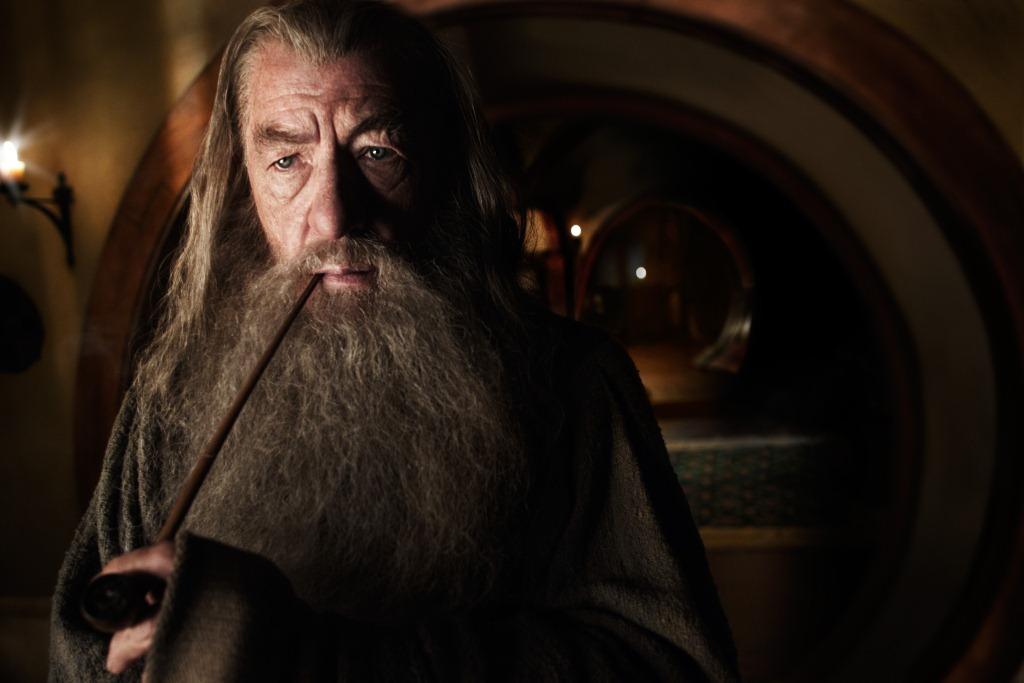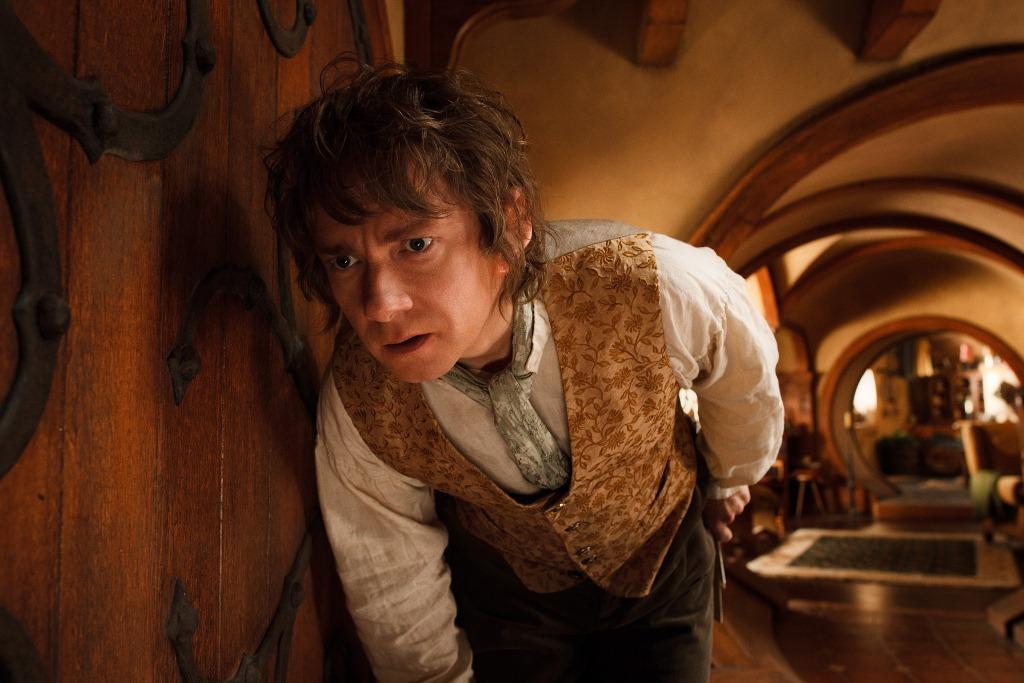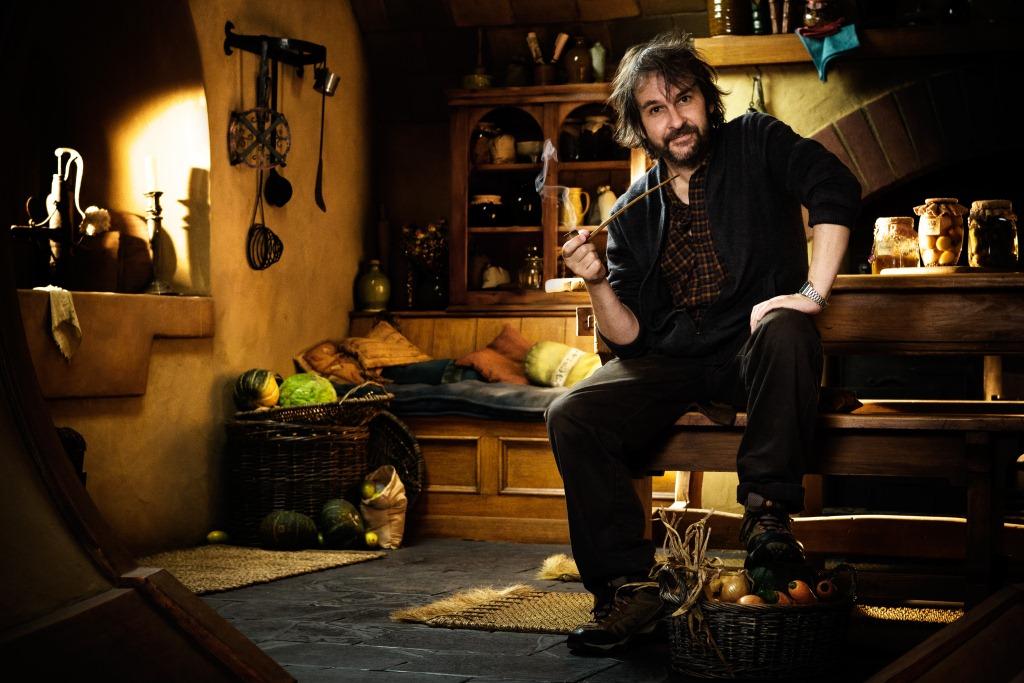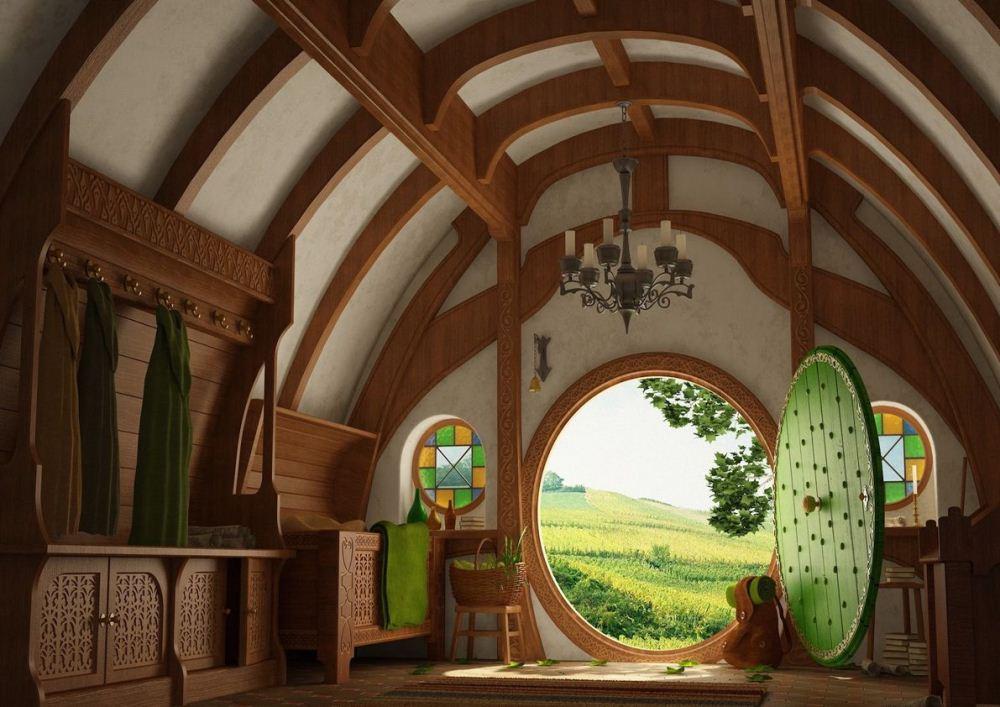 Oak plank doors sawn, planed and joined in mythical Middle Earth's pre-industrial woodshops provide a home for the star of Peter Jackson's latest film, "The Hobbit,"  with the signature comfort described by author J.R. Tolkien. His original book describes the homes of  the short-stature hobbits:
"In a hole in the ground there lived a hobbit. . . it was a hobbit-hole, and that means comfort. It had a perfectly round door like a porthole, painted green, with a shiny yellow brass knob in the exact middle. The door opened on to a tube-shaped hall like a tunnel . . with panelled walls and floors tiled and carpeted, provided with polished chairs, and lots and lots of pegs for hats and coats. . . The tunnel wound on and on and many little round doors opened out of it, first on one side and then on another.
The visual impact of the interior woodwork in the newest film is powerful, and the Tolkien series has spawned hotels, custom wood sheds, even several entire homes built after the style of the hobbit home, known as Bag End in the movie, such as that by a West Chester, PA architect working in Douglas fir and Spanish cedar. (See video below.)
Q&A on
Middle Earth
Dan Hennah Q&A with CWB
 
Q: Why do the houses in the Shire have round doors archways?
A: We used round doors to be true to Tolkien's descriptions...and his sketches to inform our design of Bag End.
Q: What architectural and design reference points were used in the set?  
A: For Bag End we used English country cottage design. While no specific houses were used for design influence, the old pubs of Oxford gave some design leads.   
Q: Are the table and benches antique or created for the film?
A: The table and benches were inspired by English country kitchens of the 17th and 18th centuries. These were built from seasoned oak in our prop furniture workshops. The floors were made from terracotta tiles and also some were oak parquetry. The furnishings, rugs and seating were all made in our workshops or outsourced and made to our designs.
Q: Is there a purpose in all the arches?
A: Arches...maintain the premise that Bilbo's house is underground.

In the film, perfectly circular doors are indeed set in matching jig-sawn door frames, components pegged into place. Exteriors of some doors use the green paint and centered knob Tolkein describes; interior faces of the doors are finished to a golden hue. Joint and tenon furnishings abound. Drinking flagons are shaped from wood staves of indeterminate specie, like tapering wooden barrels.
(That wood craft is important in the world of Tolkien is also evidenced in the history of another character, Cirdan, an elf who is a shipwright, and teaches his craft to succeeding generations. Cirdan appears in the Lord of the Rings trilogy movies. He builds swan-shaped ships, seaside buildings, and works with Mallorn trees - said to be similar to birchm with smooth bark and leaves that turn gold in the winter. )
Stone Street Studios, Peter Jackson's production facilities in Miramar, New Zealand, pulled from storage the original sets used in the "The Lord of the Rings" Trilogy for Bag End - the Hobbiton home of hobbit Bilbo Bagins, then built more tables, chairs, bookcases and kitchen cabinetry to accommodate the scope and style of the latest blockbuster film. (The Hobbit is now at more than $500 million in ticket sales less than two weeks after opening.)
Middle-earth is a pre-industrial society, so everything had to appear handmade and unique, which was made possible by the company's army of artisans, including a potter, a blacksmith, a glass blower, furniture makers, a food stylist, a saddler, a soft furnishing workroom, a boat builder, basket makers, and a fully manned foundry for aluminum and bronze slip-casting.
Building the world of "The Hobbit: An Unexpected Journey" took up the whole of the eight-acre site, encompassing six stages.  Three films for the Hobbit series were filmed at once and required hundreds of people, involved construction of nearly 100 sets. In  the case of the hobbit house, two sets in differing scales were built to accommodate technical requirements for 3D filming.
Design carried over from the Lord of the Rings movie trilogy, but "a decade later, a lot of the imagery of Middle-earth has become quite iconic," Jackson says. "But for 'The Hobbit: An Unexpected Journey,' it was important that it feel like a more idyllic time. The darkness that will descend on this world is brewing but hasn't yet expanded, so we wanted to reflect that visually by making it feel a bit more gentle, and have a bit more of a storybook quality in the design and photography."
The production's art department team of roughly 350 people, working under design leader Dan Hennah, was charged with designing a layered, multi-faceted and palpably real Middle-earth in the physical sets, going hand-in-hand with characters and environments to be created by Weta Digital, which made scale models.
The process began with thousands of drawings Tolkien illustrators John Howe and Alan Lee, who also created the seminal imaginings for "The Lord of the Rings" Trilogy.
"Peter [Jackson] mostly wants the viewer to get the same imagery from his film as they would get from their own imaginations when reading the text," says Howe. "So he'll describe a place with practically no details, but he's giving us the impression the characters have. You don't necessarily know what it looks like, but you get how it should make you feel."
Guided by concept art, Hennah designed sets that would meet Jackson's mandate for both realism and exquisite detail.
"To build the set, I looked at what part of it the characters would interact with to gauge how much we needed to construct," Hennah states.
Model builders created scale models of each set, which allowed Jackson to plot his action and iron out any potential issues. Hennah and supervising art director Simon Bright then oversaw construction, which was  a 24-hour-per-day operation throughout production, with crews working alternating shifts to build detailed and fully dressed sets with a rapid turnover.
The small-scale set for Bilbo's home at Bag End was pulled out of storage, restored and substantially enhanced for "The Hobbit: An Unexpected Journey," according producers ato New Line Cinema. Jackson wanted it to feel very much as the same place that was occupied by the older Bilbo and Frodo in the earlier films, which director of photography Andrew Lesnie describes as, "The most ideal place to live in the world—warm, inviting, simple, but breathtaking."
Lesnie relished the opportunity to return to Middle-earth with Jackson, this time shooting in 3D on hand-manufactured, state-of-the-art Red Epic digital cameras. Recording far more information than film cameras at an unprecedented 48 frames per second, the scenes are rendered in great detail, right down to the wood grain.
"It's a completely different technical experience, showcasing amazing developments that have taken place in the digital realm in the last ten years," says Lesnie.
One of the first scenes to be shot that would test the techniques Jackson planned to leverage on "The Hobbit: An Unexpected Journey" was the dinner at Bag End, when Bilbo is joined by 13 rowdy Dwarves and Gandalf, who towers over the group.
Whereas Jackson's previous 2D visit to Middle-earth allowed them to use "forced perspective" to fool the eye into believing Gandalf to be much taller than his Hobbit and Dwarf friends, shooting in 3D rendered previous techniques mostly obsolete.
As with the earlier productions, "The Hobbit: An Unexpected Journey" makes copious use of scale doubles of each character, ranging in size from under four-feet-tall to over seven-feet-tall. But, for the Bag End feast, and many other scenes that required face-to-face interaction, Jackson took the opportunity to pioneer a cutting-edge camera technology called Slave Motion Control, or Slave MoCon.
This technique required the art department to build two sets to accommodate the action—one sized for the main actors in a scene and the other created on green screen for the taller or shorter characters appearing in the same scene.
The resulting shots reveal Dwarves running in all directions carrying food from the pantry to the dining room, with a very tall, correctly scaled, Gandalf in their midst.
Jackson also wanted the freedom to follow the characters from room to room, so he expanded the set for Bag End, adding a dining room, bedroom and an extensive pantry, all of which were meticulously detailed in both small and large scales. "The way that Peter likes to move the camera meant that there is really no such thing as background, especially since we were filming in high definition," comments set decorator Ra Vincent. "So everything in Bag End had to look like it belonged there, including some replicas of props people may remember from 'The Lord of the Rings' films."
Below: Peter Archer of Archer & Buchanan Architecture Ltd., West Chester, PA, built a Bag End inspired 600-square-foot stone cottage.
Have something to say? Share your thoughts with us in the comments below.